Ice-breaker event at "L'île rouge" (Oct. 29th - from 6:30 pm to 8:30 pm)
The name "île rouge", or Red Island, is taken from the Corten steel (which has "rusty" appearance) that covers its facades. Designed by the architects at Forma 6, the project embraces its industrial past. It is the home to Forma 6, the Regional Council of Architects and the Regional Centre of Architecture.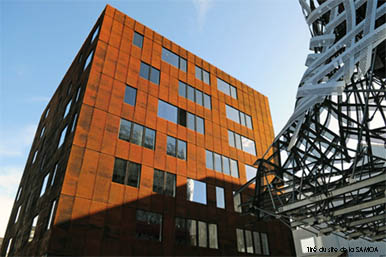 At the heart of the
Creative Arts District
, Forma 6 and its partner companies initiated a real estate development, located on the Front Populaire mall, just steps from the School of Architecture and the School of Fine Arts.
Ile Rouge, clad in metal mesh and surrounded by vegetation, expresses its designers' desire to generate a new sustainable dynamic for construction.
For further information, please visit the following websites:
Sky lunch event in the boardroom of the School of Architecture (Oct. 30th - from 12:30 pm to 2 pm)
The boardroom of the School of Architecture offers a panoramic view from the Loire river and Nantes downtown. The immediate neighborhood provides a heterogeneous environment, comprised of wastelands, re-appropriated warehouses, and new residential developments. Close to Jean Nouvel's Palais de Justice and the historical city center, the site is situated in a rich historical and contemporary context.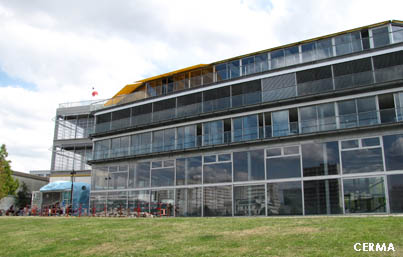 Gala dinner in Brasserie La Cigale (Oct. 30th - 7:30 pm)
Have a gourmet treat in this superb 19th-century brasserie. The building is a beautiful example of Art Nouveau architecture. In the Graslin Theater's central area, the setting and décor of this restaurant is quite stunning.